About Akeeba
Web administrator and security tools you can trust.
Akeeba has produced software for Joomla, WordPress, and the occasional stand-alone PHP application since 2006. We believe in crafting quality software, with a special focus on security and an eye towards the future.
We are a developer-run company, from creating the products to answering all the support requests ourselves (instead of outsourcing). This personal touch allows us to be more in tune with our clients needs, and the feedback we get reflects that!
Is the word "Akeeba" made up? What's it mean?
Akeeba is the anglicized spelling of the Swahili word "akiba", which can be taken to mean "backup" in the sense of someone having your back. Our flagship product literally backs up your site, and we have your back when it comes to security and protecting your site from hackers, so it seemed appropriate!
---
Meet the Team
Nicholas K. Dionysopoulos
Director & Lead Developer, Greece
Nicholas studied Mechanical Engineering but web development ultimately won his heart. He's been programming since he was eleven years old in a variety of programming languages such various dialects of BASIC, x86 assembly, Pascal, Delphi, Fortran and –since 2001– PHP. He has been using Joomla! since the Mambo days, first as a front-end developer and since late 2006 as the lead developer of JoomlaPack, what is now known as Akeeba Backup.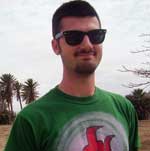 Davide Tampellini
Senior Developer, Italy
Davide is a talented programmer and security specialist. After some time spent on desktop programming, he embraced the web and started developing with Joomla, working as freelancer with web agencies and creating extensions on his own. When he found Akeeba's Framework On Framework project, it was love at first sight: now he can't work without it, and enjoys working to refine and expand Akeeba's extensions.
Our History
In 2006, lead developer Nicholas was growing sick of doing the same thing over and over again when he needed to transfer a Joomla site. It was boring, took a long time, and he was sure there was a better way. Two weeks later, JoomlaPack was born. As it turns out, other people had the same problem, and his part-time passion turned into a full-time job in no time.
In 2009 the name of the backup software changed to Akeeba Backup and the company was founded with the same name to support its commercial branch. In the following years the software portfolio grew by half a dozen components, WordPress plugins, and even a rapid application framework (FOF).
By early 2017, Akeeba Backup as a company had grown in purpose and audience, and we launched a new brand - Akeeba. We went beyond backups, and the refreshed brand and product logos better reflect where we've been...and removed limits from where we're going.
We've been around the block by now, but we're just getting started. Can't wait to see what the future holds!